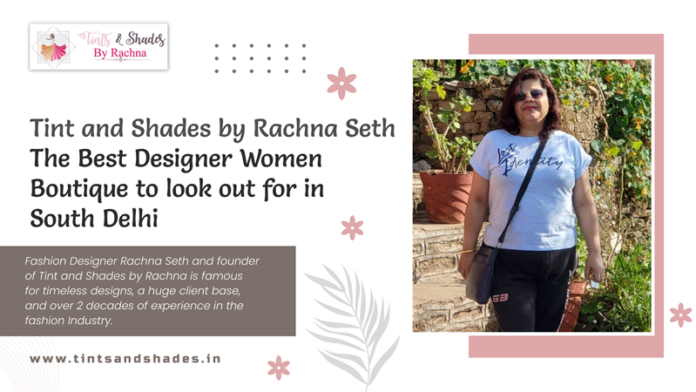 Fashion Designer Rachna Seth and founder of Tint and Shades by Rachna is famous for timeless designs, a huge client base, and over 2 decades of experience in the fashion Industry.
A true epitome of creativity Rachna Seth is a self-made woman, a successful entrepreneur, and a devoted mother. She is popularly known for the uniqueness, elegance, and style in the fashion line by introducing Indian Design wear with a touch of Western look.
Rachna Seth graduated from YWCA Connaught Place in New Delhi, India. She founded Tint and Shades by Rachna in South Delhi when her creativity was fostered in the field of fashion design and this inspired her to pursue a career in this field. An innovative fashion designer with an innovative mindset Rachna Seth has created beautiful appealing designs for her numerous clients in the past 20 years of her career.
Rachna's expertise lies in creating designs that range from Salwar suits, Palazzo Kurtis, Cordsets, Shararas, Anarkali Suit, drapes (Saree with blouses) lehenga, and so on. Rachna's brilliance comes in her ability to lend Indian traditional history with a joyful and contemporary tough. Through Tints And Shades, Rachna offers the newest trends in clothing to fit your personal style. Through her flawless collection, she aims to develop and offer you an exquisite fashion sense. Providing customers with outstanding designs and top-notch materials is her motto.
Rachna Seth, founder of Tint and Shades by Rachna says "Due to recommendations and digital reach, our directory has high-esteem clients who are working women, including doctors, civil servants, senior government officials, television personalities, women employed by MNCs, students, and housewives. For many years, I have served as their family wedding platoon's design wear consultant."
She further adds "Prior to showing or creating the clients' outfits, we first find out what they think about fashion and comfort. Developing a relationship with our customers inspires us to create and improve products that are tailored to their needs. As a result, they not only get the best product but also the best fabric for the lowest prices."
Needless to say, Because of its timeless status and design, fashion is regarded as the most glamorous industry of all time. Whether designing a lehenga or a salwar suit, Rachna foresees trends, takes on the risk, and creates unique looks. As a top fashion designer, Rachna Seth has consistently overcome the risks of leadership in the fashion industry with her impeccable innovations and ideas. For the coming generation, Rachna has started a new era in fashion. She rose to the top of the industry thanks to her flamboyant tastes and impeccable design, whether it be in the form of Palazzo Kurtis, Cordsets, Shararas, Anarkali Suits, drapes, etc.
Learn more – https://tintsandshades.in/
Facebook – https://www.facebook.com/tintsandshadesbyrachna
Instagram – https://instagram.com/tintsandshadesbyrachna
Address – SHOP NO.03, Ch.Harsukh Marg Main Road, Arjun Nagar, Safdarjung Enclave, New Delhi, Delhi 110029.