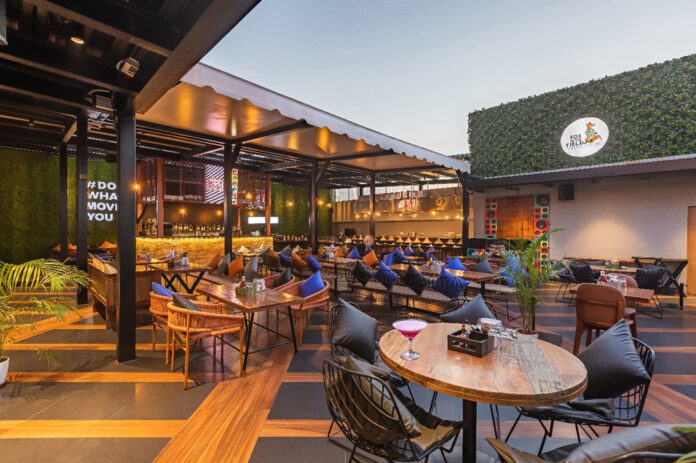 Hey, foodies! Get ready to elevate your dining experience with the culinary scene – Fox in the Field's rooftop dining experience. Located in the heart of the city, this hidden gem is about to become your go-to spot for a unique and unforgettable meal.  
Picture this: the sun setting, a gentle breeze, and a cold, refreshing beer in hand. The rooftop here isn't just about the panoramic views; it's a rendezvous with crafted beers that complement the stunning ambiance. Each sip embodies the passion and dedication of skilled brewers, offering an array of flavors to entice every beer enthusiast's palate. From crisp, citrusy ales to rich, malty stouts, there's a beer for every mood and moment amidst this rooftop revelry. This elevated setting transforms a simple beer into an experience, making each visit to Fox in the Field's rooftop an unmatched and memorable escapade for both beer aficionados and casual enthusiasts alike.  
But what sets Fox in the Field apart from other rooftop restaurants? It's their attention to detail.  From mouth-watering appetizers to delectable entrees, their food is a true reflection of their passion for creating an exceptional dining experience. Every dish is thoughtfully prepared using the freshest ingredients, and the presentation is nothing short of perfection. Plus, their friendly and attentive staff will make you feel right at home, adding to the overall experience.  
The rooftop dining experience at Fox in the Field is not just limited to dinner. They also offer a scrumptious brunch menu every Sunday, making it the perfect spot to catch up with friends or enjoy a lazy Sunday afternoon. And let's not forget about their signature cocktails that are a must-try. Trust us, you won't be disappointed.  
But that's not all – Fox in the Field also hosts special events and private parties on their rooftop. Whether it's a birthday celebration, anniversary, or corporate event, their rooftop deck provides the perfect ambiance for a memorable gathering.  
So, what are you waiting for? Gather your friends and head over to Fox in the Field for an unforgettable rooftop dining experience. Make sure to snap some Instagram-worthy pictures and tag us, we love to see our guests having a great time. See you on the rooftop! Cheers! 
For more info, pics, or just a friendly chat, contact: 080 6937 9027 
Website – https://foxinthefield.beer