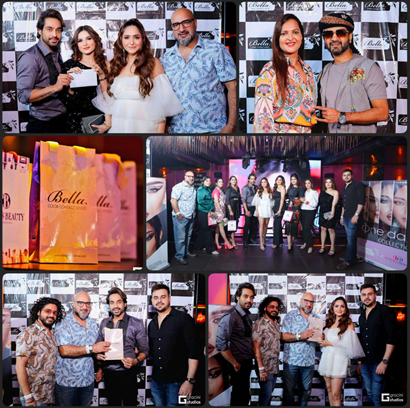 Bella Contact Lens Ind, a global leading color lens brand, recently organized a grand event to honor the winners of their worldwide contest held during the month of Ramadan. The event, aptly named #Night is Bella, brought together 16 winners from India and showcased the brand's commitment to celebrating diversity and beauty.
The event was masterfully organized by Ashish Chabra and Neel Kataria, both successful entrepreneurs from the makeup industry. They meticulously crafted an evening that blended glamour, creativity, and recognition. In attendance were numerous makeup artists, influencers, and celebrities, all excited to be part of this grand celebration.
Among the esteemed guests was Atul Chuhan, a renowned celebrity makeup artist, who graced the event as the guest of honor. His expertise and experience in the industry added a touch of elegance to the evening. Alongside him was Sonam C Chhabra, a leading celebrity and TV anchor, who captivated the audience with her charm and wit.
Adding to the grandeur of the occasion, Syed Irshad, the Regional Head of Bella Global from Emirates, was present as a special guest. His presence demonstrated the global reach and impact of Bella Contact Lens, further solidifying the brand's position as a leader in the industry.
The event also witnessed the presence of many other celebrities from the television industry, including Manya Aman, a popular TV actress and entrepreneur and Naseem Salmani, a celebrated Hairstylist and entrepreneur. Their participation showcased their appreciation for Bella Contact Lens and the brand's dedication to enhancing beauty and self-expression.
Throughout the evening, the winners of the contest were honored for their creativity and individuality. Their outstanding achievements in the field of makeup artistry, combined with their passion for Bella Contact Lens, made them deserving recipients of the contest's winnings.
As the night unfolded, guests were treated to breathtaking performances, dazzling fashion displays, and immersive experiences. The ambiance exuded glamour and excitement, providing an unforgettable experience for everyone in attendance.
The #Night is Bella event not only celebrated the winners but also served as a testament to Bella Contact Lens's commitment to embracing beauty in all its forms. By bringing together talented individuals from diverse backgrounds, the event showcased the brand's dedication to inclusivity and creativity.
Bella Contact Lens continues to inspire individuals worldwide to explore their unique styles and express themselves confidently. Through their products and initiatives like the #Night is Bella event, the brand encourages people to embrace their individuality, enhance their natural beauty, and celebrate their creativity.
In conclusion, the #Night is Bella event organized by Bella Contact Lens Ind was a remarkable celebration of talent, diversity, and beauty. With the presence of influential personalities, notable celebrities, and the deserving winners, the event created a captivating experience that will be cherished by all who attended. Bella Contact Lens once again proved its commitment to empowering individuals and promoting self-expression, leaving a lasting impression on the world of makeup and beauty.