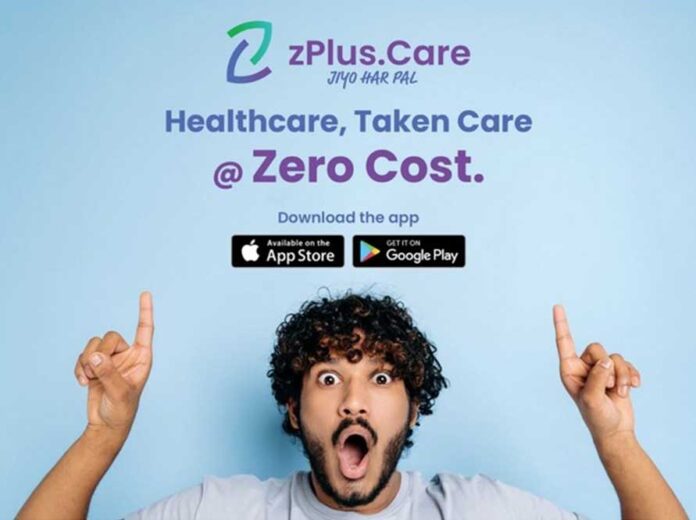 zPlus.Care, where monthly shopping, bill payments pay for your health care.
Health insurance should be every Indian's priority but in reality, more than half of India's population has no health insurance. Every seventh Indian family is just one serious illness away from financial ruin due to lack of health coverage. The reason is high costs.
This is where zPlus.Care steps in with a range of healthcare benefits. The digital platform allows members to pay for their health insurance premiums, medicines, health tests, and doctor consultations at zero effective cost. The app ensures your monthly spends and utility bill payments fund your healthcare costs.  
zPlus.Care is powered by Bharat Bill Pay System and has more than 30,000 partners. The members earn a no-cap additional cashback every time they shop for groceries, travel, entertainment, lifestyle, fashion, or other expenses across participating brands. They also earn attractive cashback on payment of utility bills, phone or DTH recharges, payment of credit card bills, insurance premiums, etc. The earned health cashback can be used to pay insurance premiums, pharmacy bills, health tests, avail no-cost medical loans, etc.  
"zPlus.Care is a community of #ResponsibleTribes who wish to protect themselves and their loved ones from health expenses on unforeseen medical emergencies, without paying for it. The health cashback earned by spending on our platform is adequate to take care of all healthcare needs at zero effective cost", said Kirti Kumar Jain, Founder & CEO of zPlus.Care.
zPlus.Care has various plan for a consumer to reap different rewards at different stages (explorer, silver, gold, platinum).  
The app also has a completely unique plan, called the zPlus PREMIUM plan (highly curated health & wealth care plans basis member lifestyle) around the theme of Care Now, Pay Later. The plan allots benefits such as health insurance upto Rs 50 lakh, home delivered medicines & health tests upto 50% off, hospital cash allowance upto Rs 30,000, no-cost medical loan up to Rs 1 lakh & many more. This is all offered in partnership with multiple banks at zero effective cost. 
zPlus PREMIUM plans are co-created with market leaders such as Care Insurance, TATA IMg, Healthians, Kuber.club & other leading banks that ensure best-in-class healthcare.
Members can select from zPlus.Care's multiple plans as per their needs, select a bank that pays for their plan and repay in no-cost 12 EMIS to the bank. Once you follow our Monthly Adherence Plan (M.A.P.), you can earn health cashback higher than the actual no-cost EMI, making the plan 100% free.
"At zPlus.Care, our promise is winning every time. We refund 100% annual membership fee on the 366th day if your cashback earned is less than the fee paid", Jain said further.
zPlus.Care is based on a simple idea. If you're spending a certain amount anyway, why not spend it through zPlus and get rewarded with healthcare benefits for the same?
Download the app now. It is available on Google Play Store and iOS.