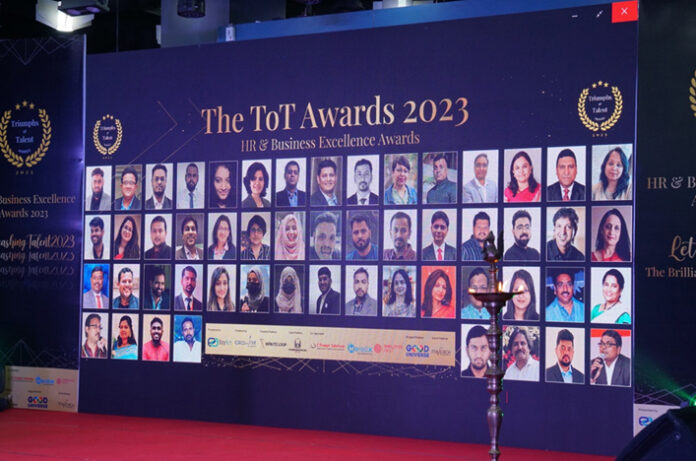 Hyderabad (Telangana ), [India]: Triumphs of Talent (ToT) proudly concluded its much-anticipated awards ceremony on November 17th, 2023, at the esteemed T-Hub in Hyderabad. The event, which honoured remarkable achievements in the realms of HR and Business, featured esteemed industry leaders and luminaries, celebrating excellence across diverse industries.
With the esteemed presence of Mr. Srinivas Rao Mahankali (MSR), CEO of T-Hub, as the chief guest, the event was graced by the keynote speaker, Mr. Manoj Kalra, Head of GBS at DSM Firmenich. Adding to the significance of the evening was the attendance of Shri Shilpavalli, Deputy Commissioner of Police, as the special guest, further enhancing the grandeur of the occasion.
The prestigious awards recognized leaders within the HR and Business domains, acknowledging their outstanding contributions under categories such as Hall of Fame (the highest category), Visionary, Trendsetter, and Young Achievers. From an impressive pool of over 250 nominations, a distinguished panel of jury members meticulously selected 50 awardees across these four categories.
The esteemed jury panel comprised industry experts, including Rashi Shrivastava from Qentelli, Sricharan from Student Tribe, Bobby Mehta from the University of Portsmouth, Roohi Syed from nextq.ai, Geetha Srinivas from Media Mintand Srikant Surampudi from TCS, whose discerning evaluations ensured the recognition of the most deserving talents.
Moreover, the event featured two engaging panel discussions centred around crucial topics pertaining to awards and recognition. These discussions were expertly moderated by Dr. Dinesh Kumar Murugesan, Global Director HRSS GBS at DSM Firmenich, providing invaluable insights into the future of human capital excellence.
Triumphs of Talent (ToT), a platform dedicated to empowering excellence through recognition, was founded by Mr. Mohammed Fayaz, a visionary entrepreneur committed to revolutionizing the global human capital landscape. Fayaz leads a dynamic portfolio of businesses within the human capital ecosystem, embodying a passion for fostering talent and innovation.
The success of the event was made possible through the generous support of sponsors, including Ezyact Solutions – Title Sponsor, Growise Academy, Marolix Technology Solutions, C Prompt Solutions, Good Universe, and Employee First. Speaking about the event, a Krishna Kumar of , Cprompt Solutions, remarked, "We are thrilled to support Triumphs of Talent Awards 2023, recognizing exceptional talent and innovation. This platform aligns with our commitment to fostering excellence and transformative solutions in the HR and Business domains."
Co-founder of ToT, Leena Canjivaram, expressed her enthusiasm, stating, "We are immensely proud of the calibre of talent showcased at the awards. This event signifies our commitment to honouring brilliance and fostering a culture of innovation and excellence."