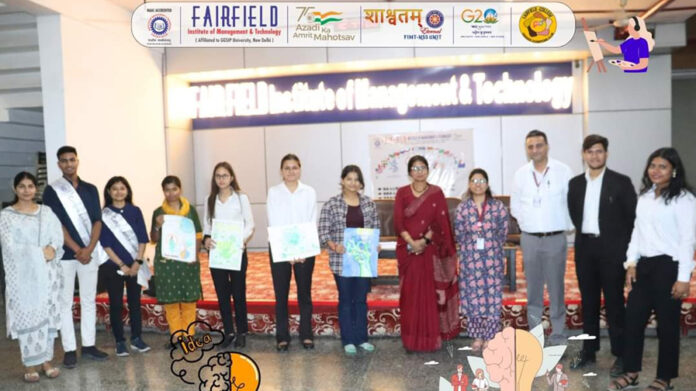 Each individual has creativity and imagination; we just need to unleash and explore it. To celebrate World Creative and Innovation Day, FIMT College arranged a poster-making competition.
The event was held on 21st April 2023, and 25 students participated and showcased their creativity. The event was conducted under the G20 Presidency and was quite a wholesome event for creative minds. The Poster making competition started around 11:00 AM, and each participant was given one hour to create their unique posters. The event was judged by Prof.(Dr.) Saroj Vyas, the Director of FIMT, Dr. Shalini, who is currently the Head of IQAC, FIMT; and also by Dr. Manish Yadava, Professor at FIMT. 
One of the unique things about the event was that each student had such stark concepts, and they made creative posters that attracted the vision of all. The zeal with which the volunteers curated the posters made it more one of a kind experience. The poster-making competition was a roaring success, and the students' enthusiasm made it more enjoyable!
The event winners were Snigdha Sharma, Latika Mishra, Farzana, and Divya. Each of these students had made a poster that was not only creative but, at the same time, meaningful as well. After the conduction of the event, the winners were announced by the judges, followed by the prize distribution ceremony. The event's theme was Growth Through Green Innovation, and it gave the students a new perspective to channel their creativity. 
The students had to make the poster on A3 size paper and could not use phones to maintain originality. The poster-making competition was an event that raised awareness and helped the students revisit their creative persona more. The event is one of a kind, and hence it has been able to render a lot of positive affirmation.