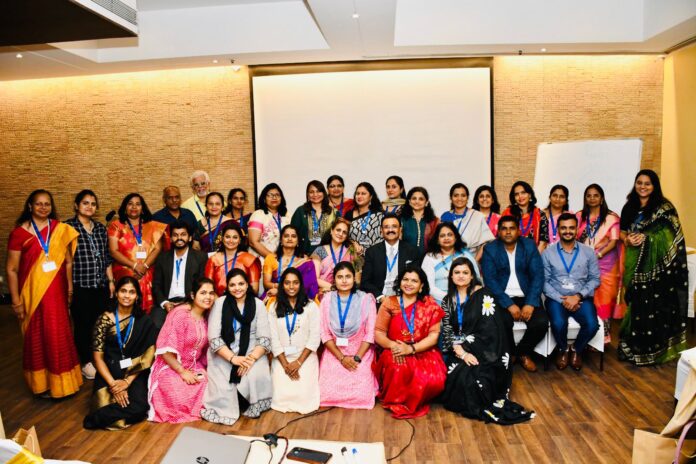 Mumbai (Maharashtra) [India]:  Metamorphosis, a pioneering organization in the field of education, successfully hosted its first Education & Changemaker Conclave on the 13th of May 2023. The event, led by visionary founder Sonal Jhajj and supported by an exceptional team including Dr. P.K. Rajput, Dr. Pratik Mungekar, Dr. Deepali Shirgave, and the entire Metamorphosis team, delivered an extraordinary experience for all participants.
The conclave commenced with the auspicious Ganesh Vandana and Lighting of the Lamp by esteemed guest of honours and special guests. Founder Sonal Jhajj took the stage and delivered a heartfelt welcome speech, outlining the aim, mission, and vision of Metamorphosis to the attendees.
Distinguished speakers Dr. P.K. Rajput, Dr. Pratik Mungekar, and Dr. Pramila Kudwa captivated the audience with their insightful Keynote Addresses. Dr. P.K. Rajput shared his thoughts on education and experiential learning, highlighting their importance in shaping future generations. Dr. Pratik Mungekar focused on empowering education through strategies, innovations, and inspirations, emphasizing the need for a better future. Dr. Pramila Kudwa enlightened the audience on the connection between humans and their bodies, shedding light on the significance of this relationship.
Following the keynote addresses, Founder Sonal Jhajj and the core team members felicitated the esteemed guest of honours and special guests, recognizing their invaluable contributions to the field of education. The list of participants included prominent names such as Dr. Pramila Kudva, Nikita Bhate, Vishwas Vaidya, Dawood Vaid, Kala Natrajan, Anamika Panda, Surekha Landage, Neha Jain, Kudale Ashwini, Deepali Shah, Dr. P.K. Rajput, Dr. Deepali Shirgave, Dr. Pratik Rajan Mungekar, Neeti Nagarkar, Dr. Anita Sharma, Sejal Ray, Sonal Sheth, Amrit Nagpal, Suvidha Satam, Ushavati Shetty, Kajal Parmar, Krishna Kumar Sir, Renu Patil, Nancy Swamy, Dr. (HC) Siravjeet Kirad, Urmi Patel, Sonali Shivajirav Takalkar, Sonal Jhajj, Er. Ravishankar Kumar, Vinu Mathur, Rewant Kumar Sharma, Rachna Bhimrajka, Ashwini Pansare, Deepali Shah, Gaurav N. Tiwari, Harshita Shetty,  Priyanka Sharma, Agnus Naidu,  Paviter Kaur, and Heena Purswani.
The highlight of the event was the young child performing a song on Mera joota hain Hindustani– The Charming Rockstar- Anishka Jain.
The conclave, dedicated to advancing education and fostering innovation, featured an exceptional lineup of speakers and engaging panel discussions. The event provided invaluable insights into the future of education, inspiring attendees to drive transformative change.
The founder's visionary approach and the team's meticulous planning ensured a seamless experience for all participants, leaving them inspired and empowered to revolutionize the field of education.
The Education & Changemaker Conclave hosted by Metamorphosis stands as a testament to the remarkable commitment and dedication of its founder, Sonal Jhajj, and the entire team. Through their tireless efforts, they continue to reshape and redefine education for a brighter future.
About Metamorphosis:
Metamorphosis is the pioneering organization/ platform that aims to instill and polish the writing and communication skills of the next generation educators and children.
A very dignified early childhood education organization (MFECCE) that fosters Innovation and Ideation Skills of every early childhood educator.
Also Metamorphosis is a leading organization at the forefront of education and changemaking. With a focus on innovation, experiential learning, and empowering educators, Metamorphosis strives to transform education and nurture the leaders of tomorrow.