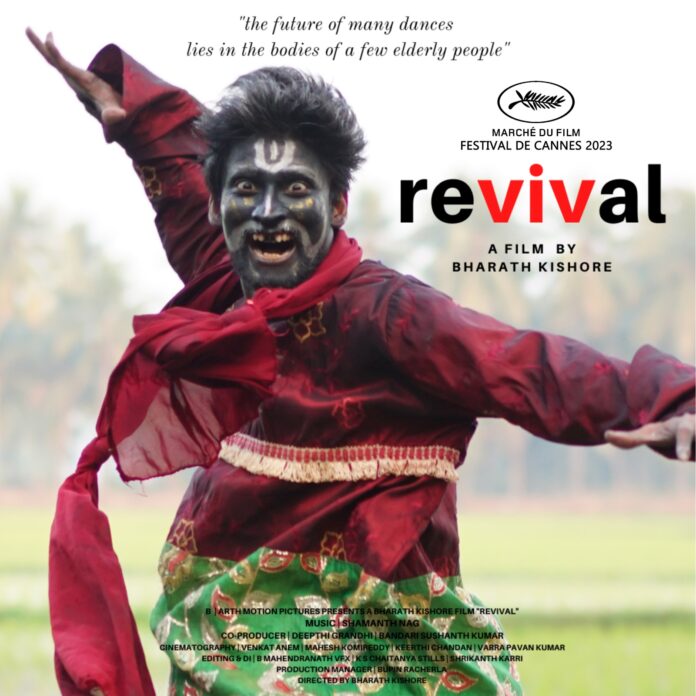 The new Indian film Revival, directed by Bharath Kishore, was showcased at the Cannes Film Festival 2023 on Sunday in the Marche du Film section. The film, which is shot in Telugu language was screened in English for the global audience and depicts the rich tradition of Indian culture through folk dance.
The movie received a lot of attention from media around the world, showcasing India's cultural heritage and focusing on its roots. The film fills in the lost charm of folk dance and music, covering southern dances in this film. Revival revolves around dances largely from communities that have been supressed in India and highlights the importance of cultural appreciation to avoid discrimination. The film apparently took four years to finish, with two years spent on production and two years in post-production during the COVID-19 pandemic.
Talking about the production, Director Bharath Kishore, who is also a dancer and played the lead role in the film said, "Being a dancer myself I have a personal connection with the film. With Revival, I aim to revive the rare and dying folk dance culture of India and create awareness." It is a treat to watch the folk dancers perform and talk about their purpose of dancing. Each dance has its own soul and they all have the common theme based on percussions.
The film is shot in Telugu and is about one hour and forty minutes long. The film breaks into a dance every now and then but the music and dance sequences are so good that it doesnt disturb the screenplay. The transformation of a street dancer into a folk dancer is very interesting. In fact, in the second folk dance, Bharath Kishore is almost unrecognizable. Though it is his debut as a director, Bharath Kishore has previously acted in two Telugu films and has also been a radio jockey in Hyderabad. It is very evident from his natural flair for acting and conversing in the film.
Movies based on Indian culture have been doing well off late and it looks like we have another gem to watch out for from the southern film industry this year. This is not just an important film to watch but also an inspiring one.